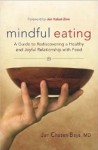 Jan Chozen Bays, MD in her book, "Mindful Eating" defines cellular hunger as signals from our body that tell us when to eat, when to stop and what to eat.  She states, "If we are to return to a healthy and balanced relationship with food, it is essential that we learn to turn our awareness inward and to hear again what our body is always telling us about its needs and its satisfaction.  To learn to listen to cellular hunger is the primary skill of mindful eating."  She further explains, "The body has its own wisdom and can tell us a lot about what it requires if we are able to listen.  Unfortunately, as we get older we become deaf to what our bodies are telling us we need."
Have you ever had a craving for salt or red meat?  These cravings could be signals from your body telling you it needs salt or iron.  Have you ever just needed to drink some water because no other liquid could quench your thirst?  This could be a sign that you are dehydrated.
"The essential elements satisfy cellular hunger.  These include water, salt, protein, fat, carbohydrates, minerals, vitamins and trace elements such as iron or zinc."  In fact, many episodes of bingeing can be directly attributed to not having eaten the proper nutrition, or essential elements, throughout the day, like protein or healthy fat.  These deficiencies are sneaky and often disguise themselves as cravings for junk food when your body is really calling for nutrients!  Small tweaks in the diet to include more healthy protein or fat will usually curb binges or eliminate them altogether.  Pretty cool, huh?
Do you tap into your cravings to see what they are telling you?  Can you listen to your body to see what it TRULY needs and eat accordingly?  This takes practice but is well worth it because it's a pretty gentle way to achieve a positive relationship with food and maintain a healthy weight.